This is "The New Way to Play". There simply is nothing else like it. From its original shape to the sidearm throw to it's mesmerizing flight; this is unique. And it fits in your pocket for fun anytime, anywhere.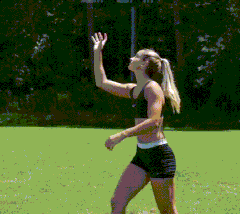 PRODUCT FEATURES:
DISTANCE:

 This is designed to be used at various distances. Play catch at short range for leisure or spread way out to test your skill. We've gotten this to fly over 200 ft. / 65 yds. Can you?
STABLE FLIGHT: This is what makes throwing and catching possible. Level release = level flight. Angled release = curved flight. That equates to predictable and accurate throws.
FLOATING: This is buoyant and ready to be played with at the beach or pool.
HOW TO THROW:
Throwing this is just like skipping a stone, except you're not trying to skip it. Imagine you're standing waist-deep water. Now, try to skip this on the fictitious water's surface. This means this is designed to be thrown forehand, not backhand as you would a Frisbee.

The more you throw this the better you will get, and the more fun you'll have. The following graphics are to show you how it's done. Get ready to "Grip it and Zip it".
Hold this in your throwing hand with the domed side up. Place your index finger in the groove around this's perimeter. The exact placement of your other fingers is less critical. The thumb may be on the top or edge. The remaining three fingers will be underneath this. Experiment with different grips to maximize performance. Just remember that the grip should be gentle.
Now you're ready to Zip It. Every successful throw combines the following two factors upon release: Spin and Angle.
Spin: Maximizing spin will combat the enemy of this; wobble. Generate spin by rolling this off the index fingertip. 
Angle: This must be released level for a straight flight. To do this, the forearm must be horizontal.
One added tip: don't be afraid to zip it with some force. This will help you get the correct amount of spin. 
SPECIFICATION:
Size: 6.5 * 6.5 * 1.2 cm
Material: Safe and non-toxic silicone
Color: gold
PACKAGE INCLUDES:
1 / 2 / 3 / 5* Creative Hand-Push UFO
At giftbobo we strive to make our customers 100% satisfied with the product they've purchased from us. If you are experiencing any shipping or product issues, and you're feeling frustrated, then please send us an email and our team will assist you right away.
Please fill in your address in all details, otherwise, the package we mail to you will be returned to us.



====================>> RETURN POLICY <<====================
1.Not Happy with Your Order
If you are not happy about your purchase, 7 days from the date of that you received the product in like-new condition with no visible wear and tear, you (buyer) will be the one who is responsible for paying for the shipping costs for returning an item if not covered by our warranty against manufacturer defects and exchange is not due to our error.
Please note: Customers will only be charged once at most for shipping costs (this includes returns); No-restocking to be charged to the consumers for the return of the product. Shipping costs are non-refundable.


2. Damaged Items or Low Quality
If the product is defective or does not work properly, please kindly let us know. For the fastest resolution, please contact us via support@giftbobo.com including a photograph demonstrating the poor quality or the damaged area of the item. The most optimal pictures are on a flat surface, with the tag and error clearly displayed. We'll send you replacements as soon as we confirmed the situation, no need to return the defective ones. We will use this information to help you with your order, and eliminate errors in the future.



====================>> CANCELLATION <<=====================
1. Cancelling Unshipped-out Orders
If you are canceling your order which has not yet to be shipped out, please kindly contact us via support@giftbobo.com. For the fastest resolution, please include your order number. Thanks!
2. Cancelling Shipped-out Order
If you are canceling orders when your parcel has already been shipped out or on its way to a destination, please contact us and then kindly refuse to accept the parcel since we are not able to call it back at that time. we will refund your payment after deducting shipping costs. A refund will be issued as soon as the parcel begins to return.



====================>> Warranty <<========================

This warranty only covers manufacturing defects and does not cover:
Damage caused by accident

Improper care

Normal wear and tear

Break down of colors and materials due to sun exposure

After-market modifications
No returns/exchanges for products with water exposure will be accepted.



====================>> REFUND POLICY <<====================
If you feel the product that you've purchased does not show the requirements that you initially had in mind, then you do have the option to request a refund.
Here are the circumstances in which refunds will be granted:
You Can Get A Full Refund
If the product you've purchased is completely non-functional.

If you did not receive your product within 90 business days after the date that your order has been placed.
Please Note: Refund will go back to your account in 3-5 business days.
SHIPPING COSTS
You will be responsible for paying for your own shipping costs for returning the item. Shipping costs are non-refundable. If you receive a refund, the cost of return shipping will be deducted from your refund.
If you are shipping an item over $100, you should consider using a trackable shipping service or purchasing shipping insurance. Thank you!

DAMAGED ITEM / LOW QUALITY
For the fastest resolution, please include a photograph demonstrating the poor quality or the damaged area of the item. The most optimal pictures are on a flat surface, with the tag and error clearly displayed.